I think it would be fair to say that the overwhelming majority of people, especially women, are interested in diamonds. Not only are they beautiful by themselves, but they can also be combined with other stones and metals to make stunning Jewelry!
Whether you want to sell diamonds or start your own business selling diamond jewelry, I will guide you through the basics of this business in this post. This is not a sales pitch as much as an introduction to the basics.
How To Start A Diamond Jewelry Business:
Starting a diamond jewelry business can be difficult, but if you follow these steps, I am sure that it will go easier for you…
1. What kind of diamond jewelry does your clientele want? Rings? Earrings? Necklaces? Bracelets?
2. Where will you sell your pieces? Is there an outlet near you that specializes in diamonds and Jewelry? Do they allow local sellers to display their work there, or do you need to rent a booth for the times when it's not rented by someone else?
3. What will your costs be like without factoring in the price of the diamonds themselves? You'll have utility bills if you're running a store, but what about renting space at an outlet where you can both display your merchandise and keep inventory on hand, as well as take orders from customers who want something made up or changed slightly after seeing something in person or owning it for a little while first. These things add up, so be sure to consider all of your costs before you set a price for your pieces.
4. Be realistic about the start-up costs and how much extra money you'll need on hand in case things get busy right away – especially if you get new customers rather than just already established ones who want custom work done by you directly!
5. How will you advertise? This can be tricky without an advertising budget, but there are many ways to market yourself online and build interest in your business that don't cost anything except perhaps time and effort (both of which I know will be valuable to you!)
The first thing on the list is what kind of diamond jewelry does your clientele wants? Rings? Earrings? Necklaces? Bracelets?
Everybody wants everything, but here are the top 3 sellers:
Rings, earrings, and necklaces.
So what you can do is focus on 1 or 2. If you want to be successful in Diamond Jewelry Business, I suggest you sell all three. You need to know what styles will work best for you then advertise that kind of Jewelry. So if people like mixed metals, go with them then choose mainly popular metal colors. Be aware that there are seasons for certain styles, so don't be afraid to change things up a little bit every now and then!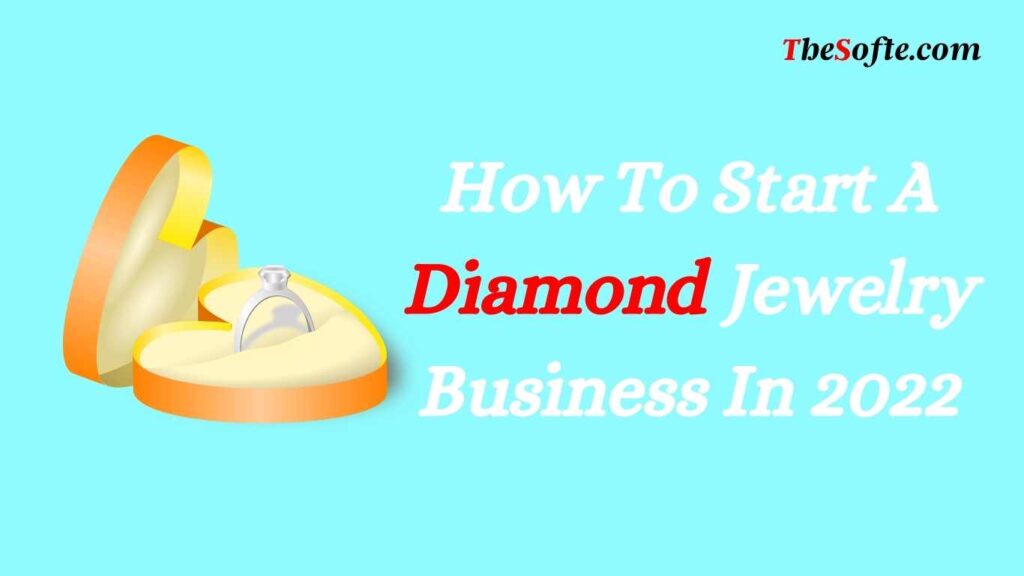 Next thing, where will you sell your pieces? Is there an outlet near you that specializes in diamonds and Jewelry? Do they allow local sellers to display their work there, or do you need to rent a booth for the times when it's not rented by someone else?
Read: 10 Profitable Clothing Business Ideas In 2022
Listed below are a few websites where you can sell your products…
Amazon: For selling Diamond Earrings like Hoop Earrings, Tiffany Earrings, and Studs, please go to Amazon Handmade. You can also try Amazon Fashion.
Etsy: This is great for handmade items such as rings and necklaces, bracelets, etc. And if you're looking for charm bracelets like Pandora Jewelry, then Etsy is the perfect place!
Bonanza: Bonanza will be the best place for high-end Jewelry. If you want to sell diamond watches and rings and necklaces and bracelets for high-end customers, then Bonanza is the best place to go!
Overstock: If you're looking for wholesale diamonds, then you've come to the right place. It's like Overstock Wholesale Diamonds. You can also try Overstock Jewelry Store and Bridal Set, Wedding Rings, etc.
Next thing, Where will your business be located? Do you own a store already? Is there a vacant retail space near you that could work for this if it were renovated a little bit to look nice and function fully as a store (not just an open room with no windows or any kind of protection) but still give your clients some affordably priced parking spots, preferably under a roof?
Your inventory cost will then need to be decided. The best way is to calculate it. You should add up the price of a diamond, a pair of earrings, and a ring, for example, and see if their sum will be enough for starting your business. But don't forget about other costs such as utility bills while running your store, insurance, etc… Therefore, keep in mind that there may be some unforeseen charges as well.
All businesses need internet connectivity since that is where customers are now looking for things. With social media being what it is nowadays, this can be both an advantage and disadvantage – you're able to promote yourself cheaply, but at the same time, you need to know what people are looking for and that you're marketing your store. In the right places!
Where will your clients park when they come to visit you? Will it be safe enough? If not, think about building a parking lot or public transportation access. Later on, this might add up to costs, so try to keep it as cheap as possible. Here is a list of websites where you can buy wholesale Jewelry: Wholesale Fashion Jewelry
Then let's talk business model. What are your pricing plans for your merchandise? What kind of markup will you have over cost price?
10% – 25% which equals 70 – 75% retail prices
It would be best to choose what fits your future customers best. But make sure that something sounds too good don't expect all your customers to believe you!
Your website will be the storefront for your business, so it looks nice and clean. You should always include the following elements on your home page:
100% Satisfaction Guarantee Policy Information about Returns Shipping Information Store Policies Contact Information
It may seem like there are a lot of steps involved in starting a diamond jewelry business, but if you break everything down into smaller tasks, one step at a time, they don't seem so hard anymore.