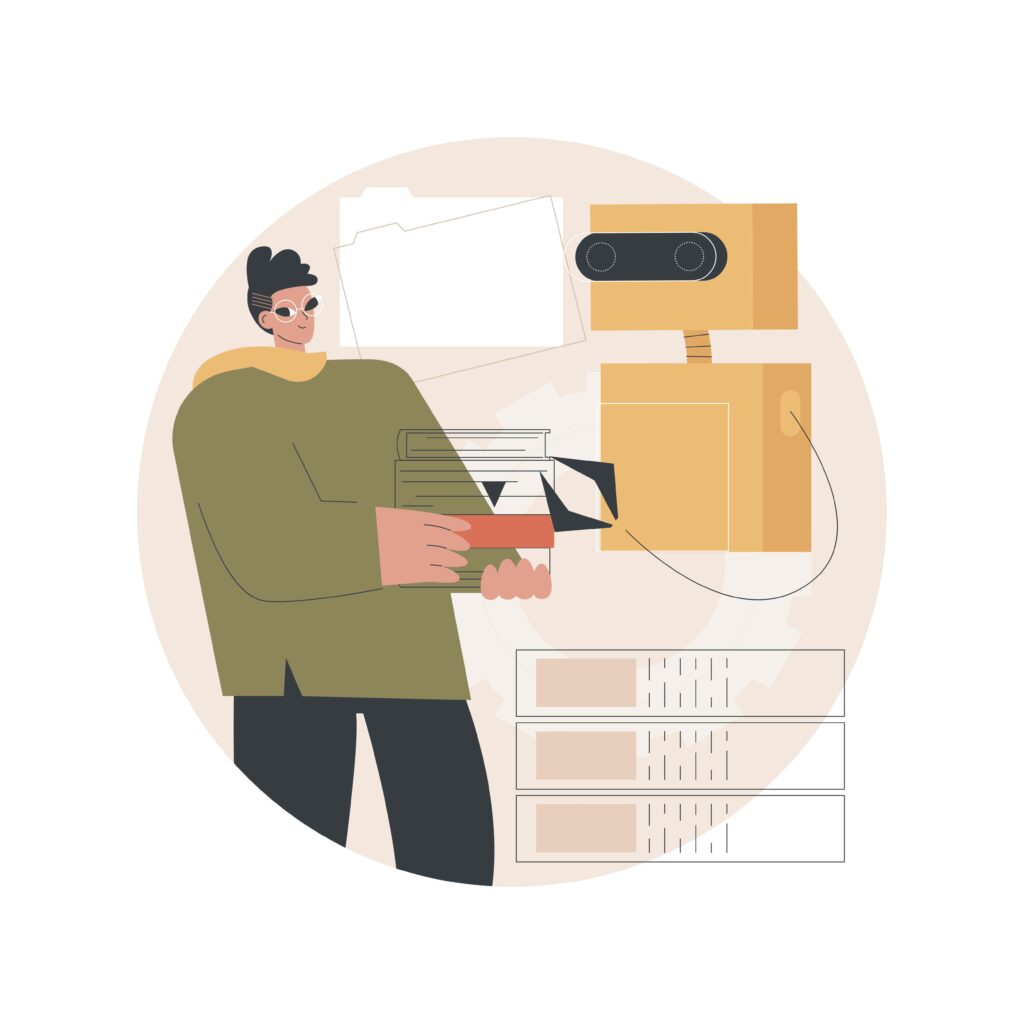 Bloggers & Copywriters have great use for paraphrasers. So, which are the best in 2022?
Content in today's world is truly the king, as Bill Gates said over 26 years ago. Today, this fact is even more elevated since marketing, businesses, and various facets of life depend on good writing. Since blogging and copywriting happen to be at the center of such content, they need all their assistance.
One such assistance is provided by NLP-based paraphrasing tools. In other words, AI-enthused tools help writers improve their content, remove plagiarism, or conduct various writing-related tasks. However, this also means there's an overabundance of such tools.
That's when things get confusing, as soon as something becomes marketable. So, which of the tools that claim to be the best are actually good at paraphrasing? Let's find out.
What Is An NLP-Based Paraphraser?
NLP, or natural language processing, is a branch of AI which helps computers understand our language. In other words, it's the computer's way of translating human language and feeding it to the machine, i.e., computer devices.
So, you can understand the role of NLP in a paraphrasing tool. It employs this language processing element and reads the content that we wish to change. Once done, it analyzes the common patterns, words, terms, etc.
After that, it rephrases it using alternative phrases and synonyms. That's how we get the paraphrased content, as AI reads and changes the words without altering the context.
Why Should Bloggers & Copywriters Use NLP-Based Paraphrasing Tools?
Bloggers and copywriters need quality content all the time. Regardless of the niche of the copy or blog required, good quality content is always easy to read and understand. On top of all that, it's free of any sort of duplicity.
Related Post: How Technology Helps Business Professionals To Be More Efficient
So, to sum it up, here are three main reasons bloggers and copywriters should be using NLP-based paraphrasing tools.
· Elevate Content Quality
Content quality and integrity depend a lot on how well it's delivered. That's when a paraphrasing tool is most handy, as it can help a writer improve and elevate their content's quality seamlessly. So, using one to improve your content should be your priority.
· Remove Duplicity or Similarities
Duplicity or similarities in the content aren't that uncommon. However, it's a blogger and copywriter's job to ensure their content is outstanding, original, and free of plagiarism. This is when a paraphrasing tool can be especially helpful, as it can remove plagiarism from bulk content without wasting any time.
· Hit The Right Content Tone
A lot of the success of your content will depend on the tone of your writing. If you're writing in a tone that's not resonating with your target audience, then it may not yield specific results. That's when a paraphrasing tool can make your life easier by altering your text and hitting the right content tone.
4 Best NLP Based Paraphrasers for Blogging and Copywriting
Picking a paraphrasing tool isn't difficult – at least in theory. All you have to do is find one on Google and start using it. However, the tool you see may not be ideal for you. That's why there are a few key things to consider before picking one, such as:
Word limit
Paraphrasing quality
Premium packages
Content tones
Free use
If a tool offers all these, then go for it. However, we've picked the 4 best NLP-based paraphrasers you can use today to save your time. So, let's get started:
Paraphrasingtool.ai is an advance AI-powered paraphrasing tool designed to conflict plagiarism effectively. It uses advanced AI and machine learning technologies to generate unique, original content without offering core meaning.

With eight modes, including the "Plagiarism Remover" mode, it ensures originality and unique content. To verify authenticity, users should evaluate the uniqueness of their rephrased content using an AI-powered plagiarism checker.

Key Features
An array of eight paraphrasing modes
Ability to rephrase up to 20,000 characters using the free rewriter mode
Incorporation of audio, image, and speech-to-text paraphrasing capabilities
Inclusive provision of free summarization function
Incorporated web browsing functionality for a seamless experience
Possibility to alter synonyms and access definitions
Facility to adjust the tone of the content
Support for over 30 languages
Multiple browser extensions and add-ons for enhanced accessibility
Paraphraser.io is one of the leading paraphrasers in Google searches, and it thoroughly justifies that. The rephrasing tool features a pretty straightforward UI design. The generous 500-word limit is also ideal for both bloggers and copywriters.
However, the content tone and naturally altering abilities of this paraphraser make it stand out.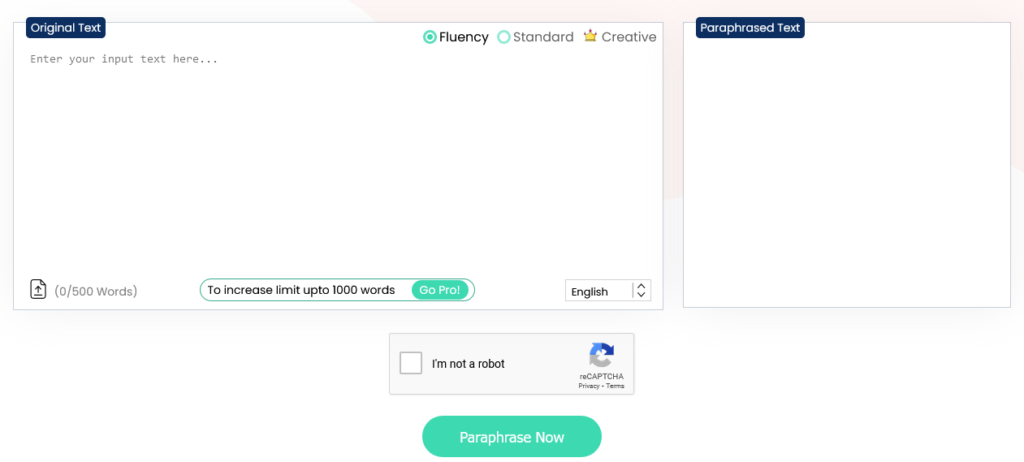 Besides that, the rephraser keeps your content's tone nature, regardless of which one you pick. This is one of the key aspects that make it stand out and ranks it number one on our list.
Key Features
500-word limit
Standard & Fluent content tone options
Over 13 languages
3. PapersOwl Paraphrasing Tool
PapersOwl paraphrasing tool is yet another stellar rephraser. It's an easy-to-use and very convenient paraphraser, which changes and alters the content properly. In other words, it has everything you would wish for in an NLP paraphrasing tool.
While it employs a very straightforward design, the instructions on the left aren't strictly needed.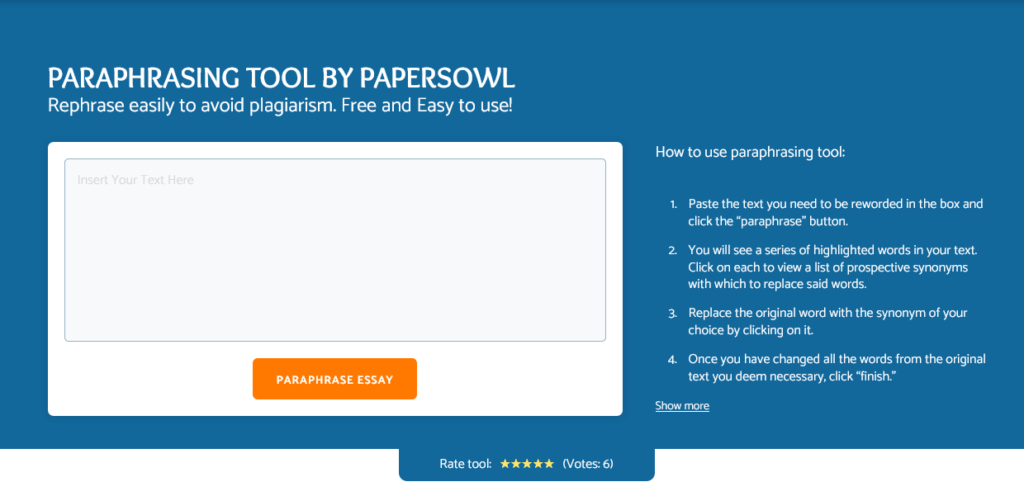 Regardless of that, you can use this rephraser for blogs and copies without any hassle. On top of that, it allows you to change the words according to your liking.
Key Features
Suggests alternative words
Seemingly unlimited word count
4. Search Engine Reports' Paraphrasing Tool
Search Engine Reports' paraphrasing tool is an easy and highly convenient tool. It offers an extensive 2000-word limit, which is remarkable considering not many free tools offer this. Besides that, it provides a progress bar on the side, which keeps you in the loop.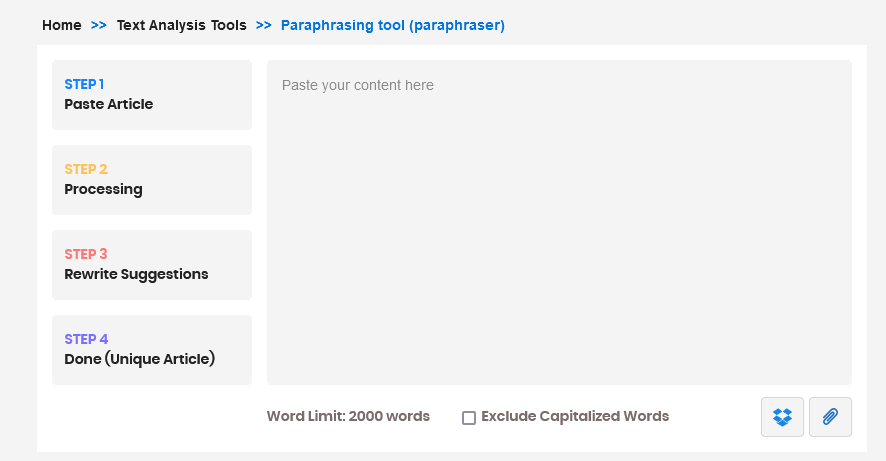 The paraphrasing process itself will take around 1-2 minutes for a 1000-word text. However, there is no option for changing the content tone, which might be a little letdown for some. Regardless of that, this is an ideal rephraser for blogging and copywriting.
Key Features
2000-word limit
Progress bar
Exclude keywords
5. Paraphrase.ProjectTopics.org 
Paraphrase.ProjectTopics.org is a great website for those who need a simple rephrasing tool. It keeps things simple by providing you with an editor and allows you to ignore specific keywords. Then, the process of rephrasing takes around 2-3 minutes, depending on the size of your text.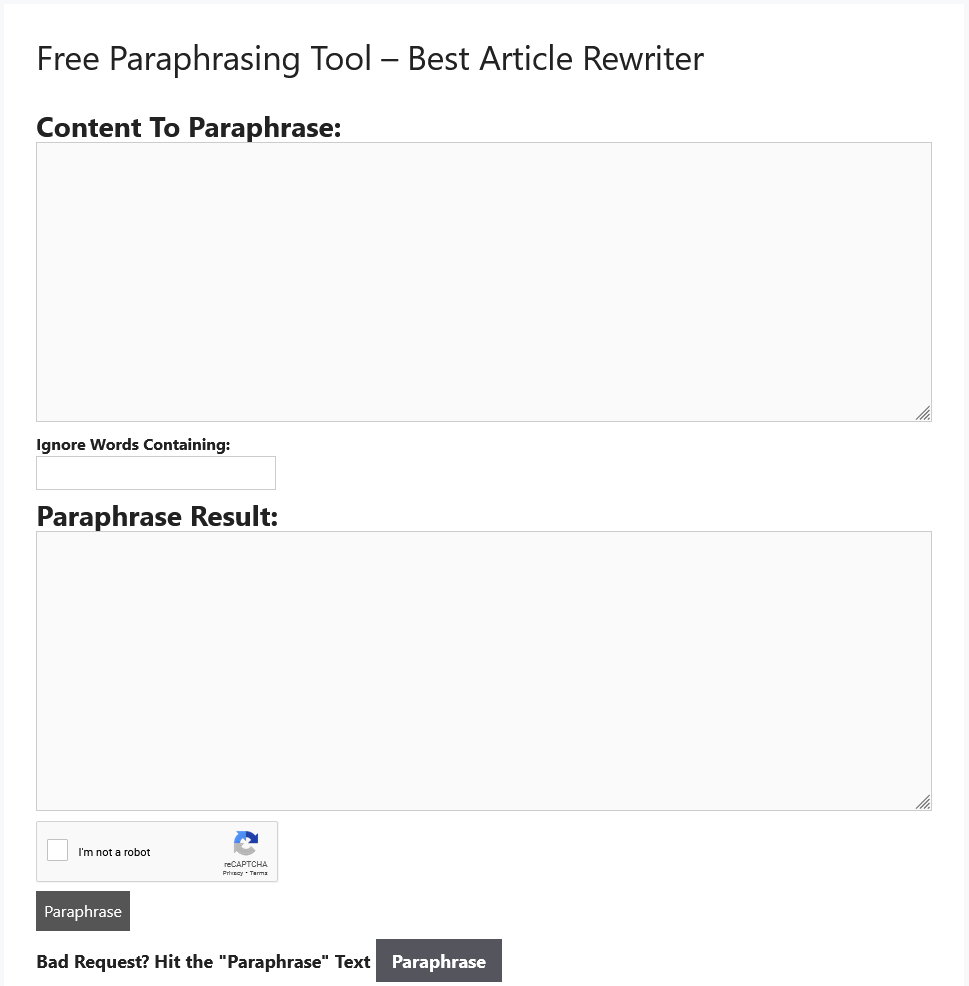 However, this paraphrasing tool is on this list because of its ability to rephrase the content in a natural tone. It doesn't make it sound robotic or unnatural, and that's one of the critical things to look for in any paraphraser.
Key Features
Keyword exclusion
Higher word limit
Conclusion
These are the best NLP paraphrasers that you can find today. They aren't only ideal at rephrasing your content, they thoroughly employ NLP and its branches to execute the best possible content for you.